Omomo Tea Shoppe

Calling all tea lovers! If you're looking for more than a cup of tea, rather a tea experience, stop by Omomo Tea Shoppe. This one-of-a-kind café takes their tea-based drinks seriously. From classic iced teas with a twist to specialty matcha masterpieces, there is something for everyone to enjoy at Omomo.
To learn more about the tea shop, continue reading!
---
About Omomo Tea Shoppe
At Omomo, their mission is to provide their customers with a wide variety of drinks with the simplest and finest ingredients. Not only will you get to enjoy a delicious drink, but you'll create memories with every sip you take. Whether you're looking to catch up with friends over a cup of tea or are searching for the perfect grab-and-go beverage, Omomo is an ideal spot for all the above.
---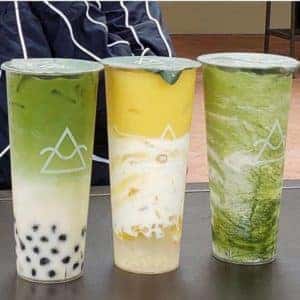 Omomo Tea Shoppe Menu
For every flavor palate, Omomo Tea Shoppe offers up a drink to match. If you're more on the simplistic side, be sure to check out some of Omomo's fresh tea drinks, which include:
Black Jade: a classic black tea that provides a taste that's both bold and smooth.
Gyokuro Green Tea: a great way to get your daily antioxidants, this tea is organically grown and imported from Japan. Enjoy a perfect blend that's both flavorful and healthy.
Oolong: a perfect choice for someone who enjoys a sweeter tea with a fruity flavor.
Aside from the classic teas, you can find a vast selection of specialty teams at Omomo, like:
Omomo Matcha: a perfect mix of premium matcha and sweet house milk create a tasty frappé-styled drink.
Taro Fresh Milk: mixed with fresh taro, sweet house milk, and topped off with fresh milk and red bean, this drink is the perfect choice for satisfying a sweet tooth.
Camo Thai: a creamy caramel brûlée-inspired drink made with an iced milk tea base.
---
Omomo Tea Shopee Catering
Having a party or gathering? Let your guests join in on all the delicious tea fun with Omomo Tea Shoppe catering. To coordinate catering for your special occasions, simply fill out the online form or call in. Once received, a member of their team will reach out shortly to discuss your event!
---
Discover Omomo Tea Shoppe Today!
Tea enthusiasts unite at Omomo Tea Shoppe. If you are ready to experience a tasty tea drink for yourself, visit Omomo today! To learn more about the shop, check out their Facebook page.
---