Head to the OC Vegan Fest in Santa Ana CA

There are plenty of benefits to being vegan. You're living a cruelty-free lifestyle, it's healthy, and it's good for the environment. If you're looking to get together with some fellow vegans and sample some amazing animal-free cuisine, you may want to check out the OC Vegan Fest in Santa Ana!
Keep reading to get all the details so you can plan ahead for some plant-based fun!
OC Vegan Fest: When & Where?
The OC Vegan Fest occurs quarterly, so look out for it in the spring as well as in July and October! It's held at the Yost Theater parking lot at 253 East 3rd Street in Santa Ana. The festival begins at 11 a.m. and goes to 6 p.m. There's no entry fee or tickets, just a free online registration. It's open to the public.
What to Expect at the OC Vegan Fest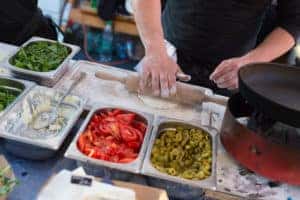 This family-friendly event will have plenty to check out. If you live a plant-based life, it's your one-stop shop for all things vegan. There will be more than 30 vendors at the event, which includes a variety of vegan food trucks and restaurants that will be cooking up some impressive menu items and tasty treats, like quesadillas, burritos, desserts and more!
There will also be plenty of vegan companies selling some of their products. This includes vegan candles, makeup, clothing, and more! You'll be able to stock up on some plant-based products while learning about some new local vegan companies. There will also be live entertainment, so you can enjoy some tunes while you're making your way through the festival!
Plant Your Visit to the OC
Now that you've got the details on this fun festival, you can plan your visit! Bring your family, your friends, and your pets! This event happens quarterly, so you can always look forward to it in the coming months!
Check out the event on Facebook so you can stay up to date on what to expect at the OC Vegan Fest in Santa Ana, CA!