Volkswagen Service Lake Forest,, CA

Are you in search of a high-quality, convenient Volkswagen service experience in the Lake Forest, California, area? If so, then we're glad that you've found us: Norm Reeves Volkswagen Superstore Irvine.
Keep reading to learn more about our service center, service specials, parts center, collision repairs, etc.
Having Fun Around Lake Forest CA
However, before we get to all of that, we want to mention one of the most compelling reasons to keep your VW car, crossover, SUV, or other model up to date on its maintenance and repairs. What's that? In addition to the performance, safety, and efficiency benefits that such a habit offers, it'll allow you to easily drive around Lake Forest and explore everything fun that there is to do: Lake Forest Sports Park, Red Rock Canyon Trail, the Pretend City Children's Museum, Heritage Hill Historic Park, and everything else nearby.
Getting Your Volkswagen Serviced
But how, exactly, will we keep your Volkswagen in shape? In addition to their extremely professional and respectful attitude, our teammates are well trained in just about every aspect of effective auto repair:
Oil and Filter Changes
Air Filter Replacements
Tire Rotations
Battery Testing and Replacements
Headlight and Taillight Replacements
And these are just the beginning! They're also highly experienced when it comes to cabin filter replacements, wiper blade replacements, and so on. Best of all, every single one of the services that we just mentioned can be performed with Volkswagen ServiceXpress, which means that you won't have to make an appointment and you won't have to wait more than 30 minutes. They'll cater to your schedule!
On the other hand, if you're coming in for a more extensive repair or procedure, such as engine work, transmission service, or customization, you'll find out that waiting in our service lounge is actually quite enjoyable. Comfortable leather chairs, free refreshments, and complimentary Wi-Fi make sure of that.
Parts, Collision Repair, and Service Specials
Finally, in addition to all the traditional car services, we offer everything else that you've come to expect from a full-service California VW dealership. This includes a parts center, collision repairs, and specials.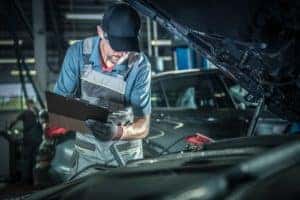 Parts Center. Here, you can find the genuine OEM part that you need for your VW, regardless of whether that's something that you'll want our team to install or something that you'll put in yourself in your garage.
Collision Repairs. Furthermore, our teammates are able to perform the type of extensive body work, painting, and other repairs that would be necessary should your vehicle get into a more serious collision.
Service Specials. Last, but not least, browse our website to find money-saving service specials!
Schedule Lake Forest Area Volkswagen Service
Now that you've read through all of that, you should be excited to learn that our Norm Reeves Volkswagen Superstore Irvine team is ready to work on your automobile right now. To schedule your appointment, either take advantage of the simple form on our website, give us a call on the phone, or drive on through.